According to what is said to be a leaked slide from an internal Samsung presentation about the upcoming Galaxy S8, the Korean company is getting ready to bring Continuum-like functionality to Android.
Continuum is the Windows 10 feature that sort of turns your phone into a PC when connected to a monitor, keyboard, and mouse. And Samsung apparently likes the concept and is working on launching something very similar for its next flagship smartphone, the Galaxy S8. Here's the slide in question: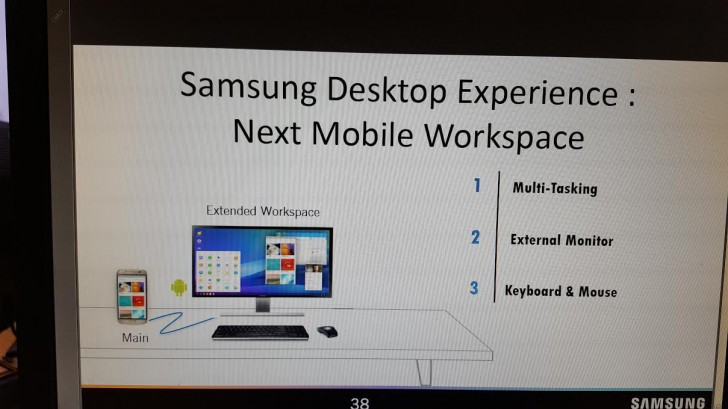 As you can see, the phone is going to be connected to the monitor through a cable, whereas you'll use Bluetooth to connect the keyboard and mouse, we assume. This will offer you an extended workspace, with a full desktop experience, and multi-window multi-tasking.
Since even the source of this leak advises you take it with a pinch of salt, we'd say not to bet anything on it being 100% real just yet. But it would be an intriguing feature for sure, and perhaps yet another differentiator for Samsung's top of the line devices in an Android world that's filled with good phones these days.