The smartphone market is past its peak, say analysts from Canalys. The two big players, Apple and Samsung, both slipped down. Apple was the top smartphone vendor in the final quarter of 2018, however it's in second place for the full year.
It fell about 7% in Q4, which put it very close to Samsung (down 5%) and the market shares of the two giants are within a percentage point. Meanwhile, Chinese brands gained ground.
The iPhone XR was the top model with over 22 million shipments. As for the premium models, the iPhone XS Max (14 million) was significantly more popular than the smaller iPhone XS (9 million).
Disappointing shipments in China are hurting Apple, which contributed to the 15% slump in iPhone shipments (the company stopped announcing shipment numbers, so we have to rely on analysts).
Canalys sees the popularity of the XR as a signal that Apple needs to offer cheaper iPhones.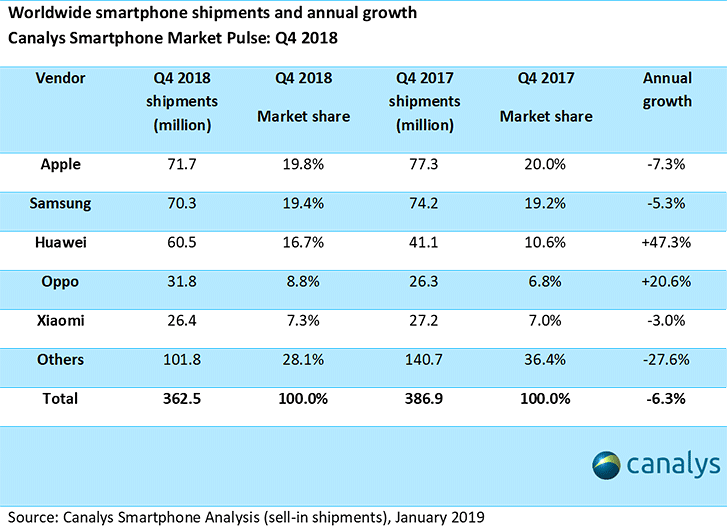 Samsung has been under pressure from Chinese rivals and it shipped only 294 million smartphones – 23 million less than in 2017 and well short of the 320 million target for 2018. Samsung is changing course to more feature-packed entry-level and mid-range phones, sacrificing profit margins to regain lost ground.
Huawei grew an impressive by the impressive 34.5% for the full year 2018 (and even more in Q4). It has a record market share in China, however it shipped most of its phones overseas (shipments were 40% domestic, 60% foreign).
Canalys notes that the company's image of a technology innovator (with multi-camera phones and AI) has improved its brand image. The US-China trade war and legal threats from the west pose a challenge for 2019, though.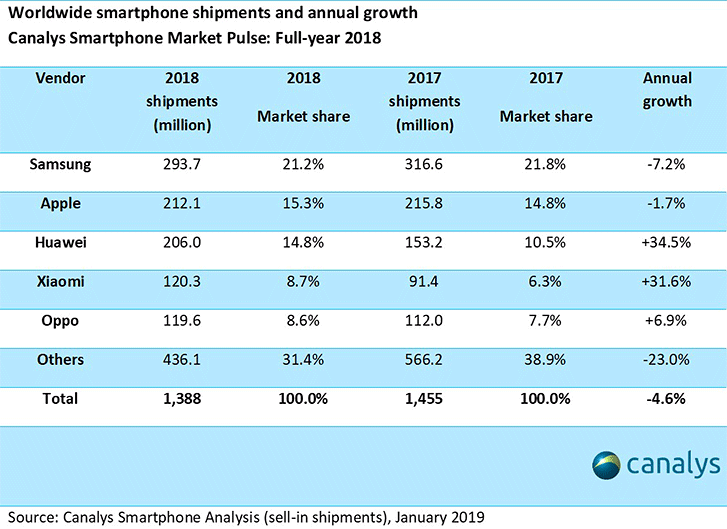 Xiaomi was the other company to post a large annual growth (31.6%) year over year and it overtook Oppo for fourth place (though Oppo fought back in Q4 and managed a nearly even result).

GSMArena